Creating Impression on Print and Screen!
We are a graphic design company specialized in areas such as: logo design, corporate identity design, branding, print design (i.e. letterhead, business cards, posters , book covers, etc.), illustration, 3D rendering, web design and project management in print production.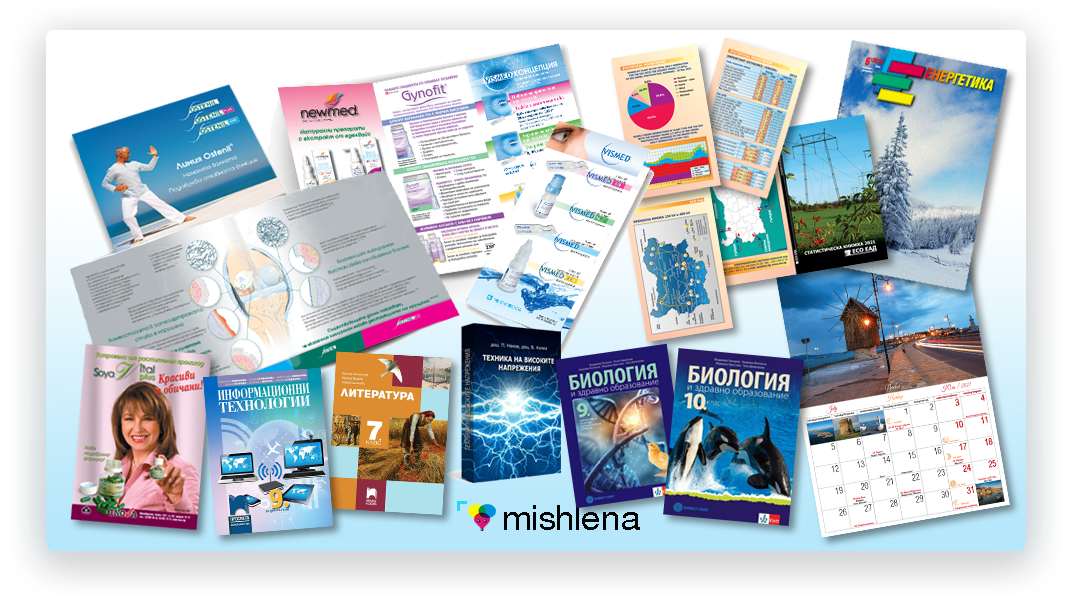 How it works with Us!
We believe that quality is the one article of trade which cannot be compromised and this is clearly seen in our work, giving our clients the satisfaction they deserve!
Meet and Consult
Before we get going with the digital drawing tools, the first step in our graphic design process will be establishing the creative consultation with the client. This brief will capture all of our client's wants and needs and other key project specifications.
Research
Research is an important part of what we do. We'll use our findings to inspire original ideas, solidify the overall design approach with the client and back up the design decisions we make later on.
Develop the Graphic Design Concept
Depending on what we're working on, the concept development and refinement stage may involve sketching out thumbnails, mockups or graphic elements. Larger and more significant projects, may require more fine-tuning and several iterations before moving into production.
Create the Design
Once all are in agreement and we have all that we need to proceed with the design, it's time to execute the project.
Collect and Implement Feedback
The feedback stage involves a series of smaller steps that ensure quality control and perfect alignment with our clients' vision.
Finalize and Deliver the Design Assets
Now that we've gotten final approval, we're ready to deliver the assets in the appropriate formats. Package them up so they're ready for production and can be easily implemented into whatever digital or print format our recipients need.
3D Design and Modeling
There is often a very small difference between what is real and what is imaginary! With 3D modeling this is often the case as well, since scenes can now come alive and be reproduced in highly realistic ways. Whether it is to develop an animation, create a model for a website or video games, the basics of 3D creation remain the same… In this case we will show you the different steps in order to create a 3D modeling product scene. To design these creations, our 3D experts use powerful tools such as 3d Max, Z Brush, Adobe Substance 3D Painter and Photoshop to make objects and high quality meshes.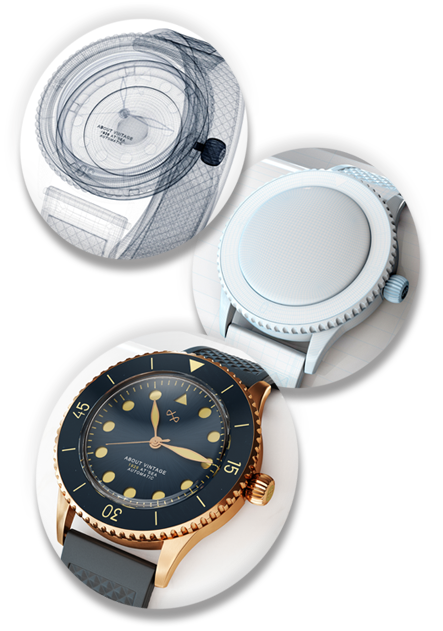 Scetching
During this step, we make rough models of the 3D objects and arrange them to form a scene. The focus is on the shell and boundaries of the object. This displays the key poses and placements of the objects or characters that will be created.
Detailing
Here we add details to the initial 3D model blocks. Models look smoother and more detailed. They are close to their final shape. We can also set the lighting and the camera placements in order to prepare the scene for texturing.
Texturing
Texturing allows us to make the model look more realistic by adding colors, designs and textures. During this stage we can make all the difference, to make a scene realistic. We rely on pictures or material photos.
Rendering
Progressively, as the scene starts to become more detailed and precise, we get closer to the final result. After texturing and lighting are completed we proceed to render the scene. Mistakes are usually revealed during this process and corrections are made accordingly. .
Post Processing
The final stage of every scene rendered is the post process. The render usually receives a color treatment, and we even add effects and use photo filters to make the scene more appealing. Lighting is also essential at this point to make the 3D model look as realistic as possible.
Illustrations and Cartoons
We have illustrated many children books and school books for the little ones. All cartoons and illustrations are done by Lubomir Mihailov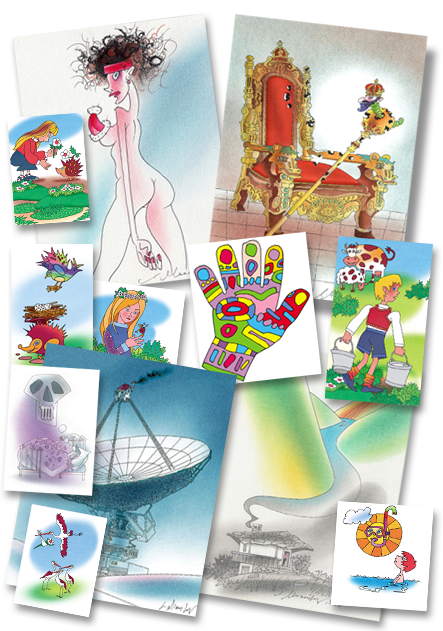 Illustrations
Lubomir Mihailov has authored hundreds of cartoons, posters and book illustrations. He is a laureate of the Grand Prix of the Union of Bulgarian Artists and a member of the Federation of European Cartoonists.
Cartoons
Lubomir Mihailov has been the recipient of numerous national and international prizes, including 1st Prize in Aksehir - Turkey, 2nd Prize in Skopje - Macedonia, 2nd Prize in Ottawa - Canada, 2nd Prize in Aksehir - Turkey, 2nd Prize in Brasov - Rumania, Marostica - Italy, Athens - Greece and many others. In 1991 received the annual Cartoon Prize awarded by the "Raiko Aleksiev" Foundation. Mihailov has been a member of the Mythical Group "June", Amsterdam - Ljubljana. Since 2005 has been the Art Director and Editor for the "BG Cartoon" annual catalogue. In 2010, Mihaylov established the first International Cartoon Exhibition in Sofia.
Our Clients
Inova Ltd.

Bulgarian company operating in the field of pharmaceutical business

The company is focused on discovering and bringing to market innovative "boutique" preparations in specific therapeutic areas such as obstetrics and gynecology, rheumatology, orthopedics, ophthalmology and physiotherapy.
Elite Travel International

Travel Agency
Max Metal

Trade and distribution of special steel products in the field of mechanical engineering and the hydraulic industry
PROSVETA

Prosveta Publishing House
KLETT Bulgaria

Educational publishing house
National Electricity Company
Electricity transmission system operator
Ministry of Tourism
Who are we!
Who are we!
Logo Design
Corporative Identity
3D Modeling
Illustrations